Album Cover and right of publicity (By Nathan Solis)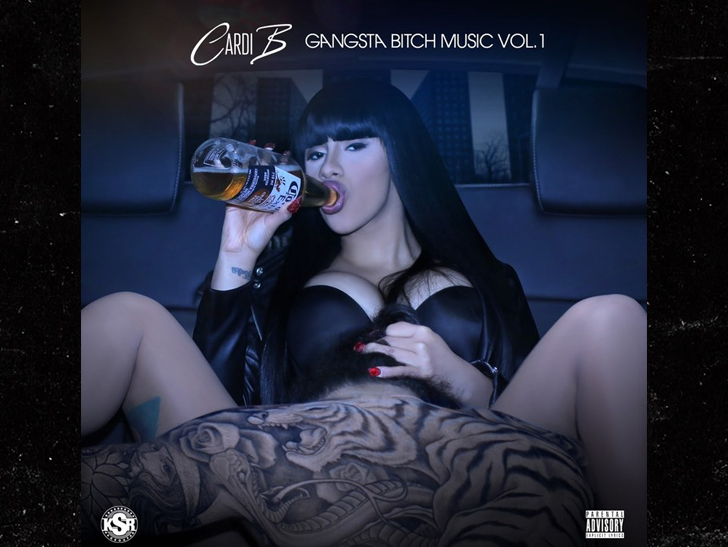 SANTA ANA, Calif. (CN) – A father of two sued rapper Cardi B in federal court Thursday, claiming she used his likeness without his permission on the cover of her career-launching mixtape.
Kevin Brophy says his unique back tattoo was used on the cover of "Gangsta Bitch Music Vol. 1," released by Cardi B in 2016.
The album cover shows Cardi B, real name Belcalis Almanzar, holding down a man's head between her legs as she downs a 24-ounce bottle of Corona beer. Brophy says he did not pose for the image and was shocked when he learned his likeness was used without his permission to promote Cardi B's "no filter" image on the cover. He says he's certain he is depicted in the photo, because his back tattoo of a snake fighting a tiger is unique and he has had it for 10 years.
According to the 13-page lawsuit,
Cardi B's popularity continues to grow and Brophy's likeness may have been displayed in print ads and other marketing material. Earlier this year, Cardi B reached the top of the Billboard Hot 100 chart.
As an employee of a "socially conscious surf and lifestyle" company in Newport Beach, Brophy says he often works in board shorts and without a shirt. His tattoos are often on display, which is how his friends, business and the surfing community know him. He says he is "devastated as a result of the trauma to his wife and children," given that Cardi B's album cover implies he was performing oral sex on the rapper.
Brophy says his son saw the photo on the internet and questioned him.
"Plaintiff had to explain that the picture was false, that even though it showed his back tattoo it was not him, and it didn't really happen," Brophy says in the lawsuit. The lawsuit, filed by A. Barry Cappello of Capello and Noël in Santa Barbara, California, names Cardi B, her New York-based agent KSR Group, and her business Washpoppin Inc. Brophy seeks $5 million in damages on claims of misappropriation of likeness or identity, violation of California's right of publicity law and invasion of privacy-false light. Neither Cappello nor KSR Group returned phone and email requests for comment by press time.
Dandi Law Firm provides legal assistance in Copyright and Music. Check out our Services or contact Us!