WATCH OUT COPYCAT 
Legally replicating Céline's Luggage Tote just got a lot more difficult. Céline holds federal trade dress protection for its coveted Luggage Tote and will have a much easier time suing in connection with cheap copies.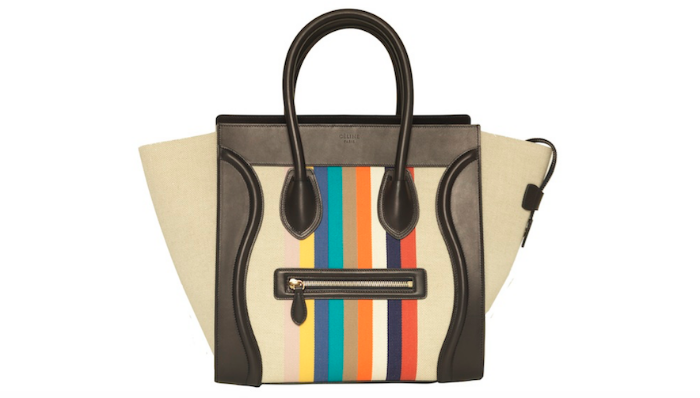 After filing to register the trademark in August 2013, the Paris-based design house was awarded protection for the pricey design, which consists of: "a three-dimensional configuration of a rectangular bag with extendable accordion-style sides, extruding parallel S wave designs on bag front, and rear, shield-shaped handle bracers designs on front and rear of bag […] As placed on the front of the bag, the zipper represents the mouth of a face design in which the handle supports appear to be the eyes and the S wave designs represent the facial outline."
The Luggage Tote joins the likes of Céline's Trapeze bag, which was awarded federal trademark protection this past May for "a mark consists of a three dimensional configuration of a rectangular handbag with exaggerated, extendible pleated sides with a single rolled handle attached to a flap that covers ¾ of the front of the bag and which attaches to the bag by a rectangular metallic closure located at the bottom center of the flap. The strap, handle, and clasp appearing in dotted lines are not claimed as a feature of the mark."
The original article is in Italian. Sorry about that!
Dandi Law Firm provides legal assistance in several Practice Areas. Check out our Services or contact Us!