Copyright Graffiti Artist. There is yet another copyright infringement case about the use by a corporation of the work of a graffiti artist (see here, here, here and here).
This time, it is purveyor of Big Macs and other calorific delicacies McDonald's which has been accused of copyright infringement for using a graffiti without authorization when creating the décor of its new graffiti-themed restaurants in the U.K. and Asia.On the heels of lawsuits filed against fashion brands like Moschino and Roberto Cavalli for copying the work of graffiti artists, McDonald's has been hit with a similar suit.
The American fast food chain has been hit with a copyright infringement lawsuit in the U.S. District Court for the Central District of California, a federal court in Los Angeles, by Jade Berreau, who alleges that McDonald's has copied the artwork of Dash Snow, her late boyfriend and the father of her child.As Berea, who is the executor of Snow's estate, stated in her complaint, "Snow was a highly acclaimed contemporary artist who died in 2009.
His work has been exhibited in prominent museums and galleries around the world, and has commanded six-figure prices at fine auction houses like Christie's and Sotheby's. Mr. Snow was named a 'young master' by the Wall Street Journal in 2006."
She notes: "Defendants are using Mr. Snow's artwork as décor in hundreds of McDonald's restaurants, and are using his name and signature in a manner suggesting that Mr. Snow created all of the surrounding artwork (which adorns the entirety of McDonald's graffiti-themed restaurants) … [including] a stylized signature of his pseudonym 'SACE,' which clearly includes a brazen copy of Mr. Snow's work."
---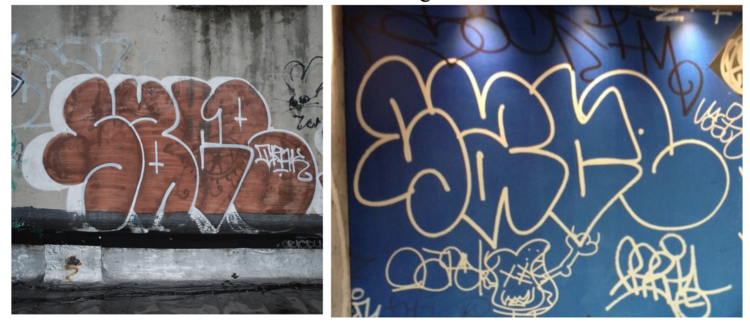 ---
Snow's graffiti (left) and the interior of a McDonald's in London (right)
The complaint continues: "Defendants are clearly attempting to trade on Mr. Snow's name and reputation. Indeed, Defendants singled out and spotlighted the display panels featuring Mr. Snow's artwork. Not only is Mr. Snow's artwork the largest and most prominent element on display, but it is also the only element "created" by a famous artist.The remaining graphic elements are comprised of generic anonymous shapes and scribbles. Mr. Snow's famous work is so prominently placed, it was the only element singled out and spotlighted in media coverage surrounding McDonald's display campaign.Mr. Snow was mentioned by name in at least one such press article, under the false assumption (which resulted from Defendants' copying) that he authorized the use of his artwork and was therefore affiliated with and endorsed McDonald's."Still yet, Berreau alleges that "Snow was diligent in controlling distribution channels of his work. He has never made his original art available on the internet, in retail stores, or in restaurants—partly for artistic reasons but also because doing so would diminish the value of his work. Nothing is more antithetical to Mr. Snow's outsider 'street cred' than association with corporate consumerism— of which McDonald's and its marketing are the epitome."
Despite formal requests from Snow's family that McDonald's remove the artwork as soon as they discovered it in June 2016, "McDonald's has arrogantly refused to comply, which has made this lawsuit necessary." Berreau – who has set forth claims of copyright infringement, trademark infringement, unfair competition, falsification of "copyright management information" under the Digital Millennium Copyright Act, and negligence – is seeking damages in connection with McDonald's unauthorized use of Snow's name and artwork, as well as injunctive relief (which would consist of a court order immediately and permanently banning McDonald's from using Snow's name and work.According to a 2007 profile, entitled, "Chasing Dash Snow," which New York Magazine published two years before Snow's death, "What makes the legend richer is that Dash Snow could very easily have lived a different kind of life, been a different kind of artist. Snow's maternal grandmother is a De Menil, which is to say art-world royalty, the closest thing to the Medicis in the United States. His mother made headlines a few years ago for charging what was then the highest rent ever asked on a house in the Hamptons: $750,000 a season. And his brother, Maxwell Snow, is a budding member of New York society who has dated Mary-Kate Olsen.
But Snow has concocted something else for himself. He has been living as hard as a person can—in and out of jail, doing drugs, running from the police—for a decade. He's unschooled, self-taught. And in much the same way that Andy Warhol used the life force of young artists and assorted beautiful people to keep himself inspired, sharing his own talents and imprimatur in return, [fellow artists] [Ryan] McGinley and [Dan] Colen have adopted Snow as the mascot of their message."Jeff Gluck, counsel for Berea has said of the suit: "Dash Snow's family has decided to file this lawsuit against McDonald's in order to preserve and protect his legacy, seeking the immediate removal of his name and artwork."
Dandi Law Firm provides legal assistance in Copyright. Check out our Services or contact Us!